versus X
1994/2010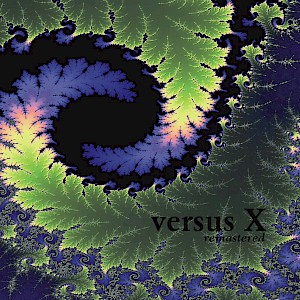 | | | |
| --- | --- | --- |
| | | Point of View (10:54) |
| | | Just one Way (8:29) |
| | | Who can tell (4:46) |
| | | Sacred War (5:23) |
| | | versus X (8:07) |
| | | Inside the Well (6:59) |
| | | To go Free (10:09) |
| | | Humans not involved (5:36) |
"versus X - remastered" ist die Neuauflage unserer ersten CD.
Das Original wurde 1994 veröffentlicht und ist seit rund 10 Jahren vergriffen. Diesen Zeitraum haben wir benötigt um uns zu einigen, in welcher Form wir die alten Werke wieder verfügbar machen.
Zur damaligen Zeit waren unsere Mastering-Möglichkeiten noch stark eingeschränkt und die letztendlich veröffentlichte Version entsprach nicht ganz unseren Vorstellungen. Natürlich wäre es möglich gewesen, die sieben Stücke einfach neu einzuspielen, aber das hätte wiederum ihren ursprünglichen Charakter verändert und den Wunsch nach dem Original wohl nicht verstummen lassen.
Also einigten wir uns schließlich, die Originalbänder zu verwenden und mit den heutigen Möglichkeiten neu zu mastern. Dadurch behalten die Stücke ihre alte Atmosphäre und Energie, kommen jedoch in einem deutlich transparenteren Klangbild daher.
Als einen kleinen Bonus haben wir noch einmal tief in unserem Band-Archiv gekramt und das eigentlich erste, ernstzunehmende Stück von versus X wiedergefunden, für dieses Album neu gemastert und mit auf die CD gepackt. Die Aufnahme stammt aus dem Jahr 1991, als noch Lukas Ernst die Keyboards bediente.
Dieses Album enthält keinerlei Overdubs und wird im Laufe des Novembers in den Läden erscheinen.
Arne Schäfer
: Gesang, Gitarren, Bass
Ekkehard Nahm
: Piano, Synthesizer
Stefan Maywald
: Drums
Point of View
In the deep dark abyss of human nature
a viscous strange morass keeps floating by
misteriously trapping fascination
for those who still keep heading for surprise
Somehow everyone of us is trying to get it straight
but who will pretend to be safe on his way today?
Pityless the force which keeps us human
by swinging with the rope from side to side
eager to prevent static stagnation
buried all alive in a satin grave
Somehow everyone...
This inscrutable soul is lurking
still we follow it on its ways
while this tremblin' urge will strike us to
find a reason for every rhyme
Hey what's wrong with you my dear
she asks with doubtful face
what kind subductive fear
you're afraid of?
what you're expecting me to say?
a definitive answer?
don't you see that I just sway
if I knew, I would have told you yet
We have discussed a thousand times
'bout things that lie beyound the
level of concrete definition
But now we always come to this
point of divergation
already I begin to repent
that I've tried to force it - over and over again
I just keep with you waiting, anticipating
that it will be me, who will give way
I'll just playing the lover, but undercover
longing to be - free
But then, didn't we say we'd tell us
anything that jerks us
to prevent the rumouring of the unconcious
But then it's always kind of mad
starting things by reason
which cannot be grapped by argumentation
or forcing it - over and over again
I just...
It makes no sense - to look sharp
even sharper then
if we face - the mirror of our soul
The point of view - each of us
everyone of us - in the end
will feel a different way
Just one Way
Feeling cuts deeply seems
carved for all time
idle the trigger pulse
awful the pain
Caused by intolerance
caused by injudiciousness
caused by a difference
in believe
No matter what
caused the stone to roll
"reasons" are numerous
like grains on the beach
History seems not
sufficient to teach
Generations
in struggle for ages
violate
each other till blood
Urge for revenge
long forgotten the cause
vicious circle
the end of the clause
Long since violence
follows its own law
dances like mad
to the funeral drum
Deep in the motherlode
something went wrong
Do you know how ever things
are going to end
Anywhere we go with this
world
there's just one way
anyway we try to go on
there's just one way
to break out
out of the drain
out of the maelstrom of
fear and hate
taking place anytime - anyday
fear and hate
relieve one another for ages
got to break out
out of the circle of hate
Prejudice amplified
canalized fears
by imperial interests
raked in years
The circle is closing
from one end to the other
minds are blinded
played off from behind
All the problems and
all of the pain
suddenly sublimate
manifest in hate
Can't accept
to take it like fate
Don't you know..
Who can tell
It's gotten quiet on the hill
collective mirrors hunger still
for indications of the dream
in liquid crystal brightly gleam
Minds displacing consequence
disillusion on the fence of visions
Who can tell, if it turns out as wasted time
knowing well it's diverting
the focus on the real
the internal grievances wasted time
for salvation of nature law
Hiding down the trap of fascination and
confine ourselves with the essential
out conscience might clear
at least our concience might clear
Splendid theories in their minds
spinning virtual units time
waiting for the final clue
mental force out of the blue
Suppressing questions, if it's worth
provincial logic of the earth we're hooked on...
Who can tell...
Inside the Well
Let the silence fill the earth
let the darkness pull away the urge
I must reach inside the well
virtues out of constant search
Let the images stand clear
let the moment be right near to me
I can feel the presence near
Am I trying to hard?
wrong situation
keep me alive
Someone asking from behind
if I get the chance, what would I find?
will I never find at all
will they ever hide behind the wall?
Am I trying too hard?
wrong situation
keep me alive
Inside the well
there's something bright
I still can't catch
noone can tell
Behind the wall
those goblins call
Can't overcome
am I so small
Inside the well
there's something bright
I still can't catch
the magic shell
Oh how am I wanting to regain the
endless trial...
To go Free
Hoping the story might come to an end
scribbeling the lines that no one will send
heavy like bricks hanging over my back
freezing emotions creep inside my head
...to go Free
will I be Free?
will I be free from the pressure
free from the pain
and last?
Hours were lasting, seconds keep dry
no ending to see, no light in the eye
wanting the breakthrough, seeking the chance
clutching each straw that leads through the fence
Flickering light at the end of the floor
finally getting me straight to the core
releasing the tension kept inside my heart
hoping this circle won't turn to its start again
will I be Free...
Humans not involved
Counting units of military
internal logic seems as clear as can be
as long as you go into their games
of mutual fears of countless names
Incompatible worlds coincide
minds are lost within their pride
horrors always felt so far
uncoupled and suppressed - A game of cards
Mankind's special award
gambled away before it's very start
Calculations splendid result
humans not involved
Individual Fate covered behind
columns - numbers - bytes
terrible beauty of the ultimate violence
presented by TV for your personal guidance
the reticule of megabytes
eyes of the world thrilled all through the night
beelzebub's late night show
shows the toys of those who couldn't afford to say NO
Mankind's special award
...
Humans not involved