Thomas Reiner
percussion and noises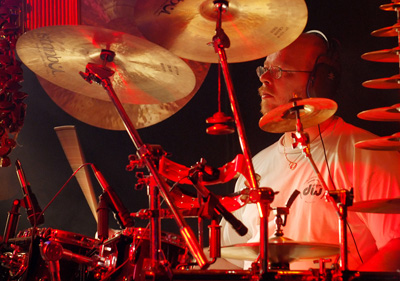 Born in the Rhein-Main area at first point af aries in the year of Kennedy's assassination he played since 1979 in countless bands across all styles, before he met versus X in 2007.
His more likely economical, melody supporting drum style provides a new note within the opus. More about his musical path on his web page www.schlagwerker.de.
Thomas left the band in 2018.
Pearl MBX in green mist
22 x 18 BD / 8 x 8, 10 x 8, 12 x 8, 14 x 12, 16 x 14 TT
14 x 6 Ludwig Snare
10 x 4 Mapex Snare
Mixed Cymbals
Several percussion instruments and gongs
Roland SPDS Sampling Pad
Billy Cobham
Terry Bozzio
Mike Portnoy
Bill Bruford
...
King Crimson
Dream Theater
Genesis
Peter Gabriel